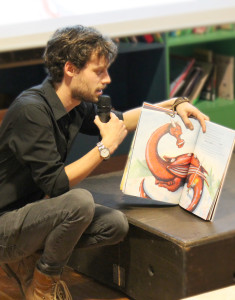 Illustrator en schrijver Aron Dijkstra werd in 1992 geboren in Sneek. Vanaf het moment waarop hij leerde om een potlood vast te houden, deed hij niets liever dan tekenen. Met zijn creatieve geest hield de jonge Aron er al van om verhaaltjes te verzinnen, die hij vervolgens tot leven bracht met heel veel tekeningen.
Daar is nu weinig aan veranderd, behalve dat Aron in 2011 naar Rotterdam verhuisde waar hij in 2015 een studie Illustratie op de Willem de Kooning Academie afrondde. In 2016 debuteerde Aron als auteur en illustrator bij Clavis Uitgeverij met zijn prentenboek Ridder Roel de drakenvechter.
Arons tekenstijl kenmerkt zich door dynamische perspectieven, toegankelijkheid en kleurrijkheid. Hij heeft een voorkeur voor traditionele materialen zoals inkt, potlood en verf. Er komt geen computer aan te pas bij Arons werk.
Tegenwoordig werkt Aron vanuit zijn woning in Pijnacker, een rustig dorpje middenin de Randstad, aan meerdere nieuwe prentenboeken.
————————————————–
Illustrator and writer Aron Dijkstra was born in 1992 in Sneek. From the moment he learned to hold a pencil, drawing was the thing he liked to do the most. With his creative mind the young Aron already enjoyed making up stories, which he then brought to life with lots of drawings.
Now nothing has changed really. Except that, in 2011, Aron moved to Rotterdam to study Illustration at the Willem de Kooning Academy, at which he graduated in 2015. In 2016 Aron made his debut as a writer and illustrator at Clavis Publishing with his picture book Nick the Knight, Dragonslayer (Ridder Roel de drakenvechter).
Arons style of drawing is colourful, accessible and dynamic in perspective. He prefers to work with traditional material such as ink, pencil and paint. No computer is involved in Arons work.
Nowadays, Aron works on more new picture books from his home in Pijnacker, a quiet village in the middle of the bustling Randstad.